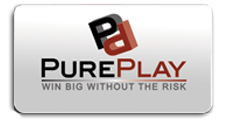 10,000 Chip Bonus
US Friendly!
Risk Free Online Poker
100 Poker Points + 10k Chips
Referral Bonus Code: Not Required
Join Now!
Get Your Bonus in 3 Easy Steps:
Sign up at the room through our Join Now buttons only.

You MUST delete all cookies. If you need instructions click here.

Start playing!
Come back to Rake Tracker and Submit the following details to track and enroll you in current and future exclusive promotions.
PurePlay Offer Review
PurePlay Summary
Looking for a risk free online poker opportunity that is legal in the United States and Canada? Look no further than PurePlay. Not only will you avoid legal issues - it is also risk free to play! Win real cash and prizes using Play Money as your currency in poker rooms, casino and some play money tournaments. over $1,000,000 in prizes is given away monthly! Get started with 10,000 Free Chips through RakeTracker.
With over 8 Million Members, PurePlay is the largest (US Legal) social casino. Earn your way to high roller status through unlocking over 50 levels, each with their own set of new games and bonuses. There are more than 100 casino games on PurePlay and poker rooms come equipped with all you favorite games such as Texas Hold'em, 5 Card Stud, 7 Card Stud, Omaha and many more.
Remain a free member after your 10,000 Chips are up and continue to play in real cash poker tournaments with no buy-ins, no deposits and no credit cards needed. This version of PurePlay is ad-supported. Really enjoying your experience and want to get even more? Sign up for the Player's Club VIP Membership where you'll receive $165,000 in chips per month plus have access to bigger tournaments and bigger cash prizes! The VIP Membership is $24.99/month and also includes:
Unlimited cash tournaments
No buy-ins, deposits, or entry-fees
$100,000 in monthly cash prizes
$10,000 World Serieulof Poker* seat tournaments
1,500 bonus poker points per month
30 free "Reveal the Cards" uses monthly (over $25 value)
Skill based tournaments
Individualized performance ratings
Ad-Free poker room
PurePlay Tournament Key
Code
Tournament Type
MTT
Multi-Table Tournaments
Speed
Multi-Table Speed Tournaments
Turbo
Multi-Table Turbo Tournaments
Red/Green/Black Level
Skill Level Tournaments
DYC
Double Your Chips Tournaments
Ply Mny
Play Money Tournaments
ReBuy
Rebuy Tournaments
$500 Qual
$500 Weekly Tournament Qualifiers
$500 Finals
$500 Weekly Finals
$2000 Qual
$2,000 Weekly Tournament Qualifiers
$2000 Finals
$2,000 Weekly Finals
$5000 Qual
$5,000 Weekly Tournament Qualifiers
$5000 Finals
$5,000 Weekly Finals
$10K WS Qual
$10,000 World Series Qualifiers
$10K WS Final
$10,000 World Series Finals
Lifetime Membership Qual
Lifetime Membership Weekly Qualifier
Lifetime Membership Final
Lifetime Membership Weekly Final
PurePlay Banking Options
Deposit Options
Visa, MasterCard
Cashout Options
Visa, MasterCard
RakeTracker | The Rakeback Pioneer.
Believe it or not, there was a time in online poker's history that there was no such thing as rakeback. When the seeds of Rake Tracker were first planted in 2003 almost all poker rewards came in the form of bonuses. Soon players wanted more. The RakeTracker business first started small, offering rakeback to players on a one-on-one basis and through referrals.
As the business grew, RakeTracker.com was launched as one of the first full-scale rakeback providers on the internet providing players with additional perks that they could receive in addition to bonuses – payout out rakeback since 2004. Now many years later, players still flock to RakeTracker for industry leading rakeback deals, monthly poker promotions in the hundreds of thousands of dollars and top quality customer support.
What is Rakeback?
All live and online card rooms take "rake" and "tournament fees" to run and operate their games. The amount of rake or fees taken will vary by game type and stake levels, but will generally be 5% of each pot for ring games and around 10% of the buy-in for tournaments.
With rakeback, players are returned a percentage of the rake that is attributed to them, usually 27%-40%. Simply put: Receiving rakeback and other promotions help winning poker players win more and losing poker players lose less. There is no reason not to get rakeback!
Getting rakeback is easy through RakeTracker: simply create a RakeTracker account, then using our referral links download the poker site's software, add the tracker to your account and you are ready to go! Detailed instructions are available on each site's review page.
Why Should I Join RakeTracker?
Joining RakeTracker is FREE and easy. Creating a FREE account will give you instant access to rakeback from two dozen rooms on all major networks. RakeTracker members will also receive access to over $300,000 in monthly promotions including: Rake Races, Rake Chases, Freerolls and free poker coaching. Refer your friends to RakeTracker and earn $40 per friend and up to 4% of the rake they generate – income for life! Join the community at RakeTracker TODAY!